Peter Wetzler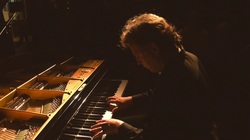 Citizenship: Canadian and US (Dual)

EDUCATION

Undergraduate education: Yale, Princeton University and The Mozarteum

Conservatory (Salzburg). 20 years of classical/jazz piano study most recently with Kirk Nurock and Robert Helps. Gamelon study at Brown University and UC Santa Cruz. Landmark Education: entire curriculum including leadership and communication programs. Teaching appointments at Princeton, NYU, Connecticut College, Juilliard, School for Visual Arts and The Center for Creative Imaging.

FILM & TELEVISION SCORES (partial)

"Warboy" Canadian feature(Marshall-Zoetrope)

"Largo Desolato" "Great Performances" (Vaclav Havel)

"Colored Museum" "Great Performances" (George Wolf dir)

"Biography" Numerous scores for the A&E series

"Ghostwriter" 82 episodes of Children's Television Workshop's hit series

"Fauve" film by Donna Cameron at MOMA

"Harrambee" score for PBS- ITV co-production

"Bunny Mooning" Max Fleisher 1945 animation re-release

"One Step Beyond" New titles -underscore for series from '50s

"The Galaxy Rangers" 65 episode cartoon series

"Flt. 19", "Declassified" ABC documentaries

"Archive" (Sci-Fi Opera prototype)

"Art of Indonesia" PBS documentary

"Life and Times of Jesus" 3 part documentary

"Names of War" BBC documentary on El Salvador

"John Nesbitt-Sculptor" CBC documentary

"One Day" 9/11 Canadian
"Olympic Memories" Sports documentary (Sports Illustrated)

"Tango in Angola" Music Video

"Landfill" Anezka Sebek's short film dramedy

"Rentagoalie" 3 season dark comedy series for Showcase Ca.

"Taking a Chance on God" Father John McNeil Bio by Brendan Fay

"100 Stories" True story of a wind power Entrepreneur



CORPORATE, COMMERCIAL MUSIC

CLIENTS INCLUDE: Miramax, Sony, Rainforest Action Network, Revlon, Merck, , Lifetime, The Hunger Project, Microsoft, AT&T , National Geographic and others

PAST PROJECTS

"Earthstation One" Interactive laser film score for National Geographic

Musiclink.com Consultant on new "digital patronage" model for internet

Village Halloween Parade Live performance and sound design for Sci Fi Channel

"Rondout Awakenings" CD composed, recorded and produced by Peter Wetzler

"Depth Perception" CD musical settings of the poetry of Julie Hedrick

"7 Journeys Fantastical" CD live piano improvisations with Chris Turner, harmonica

"Healing Music Series" Producer of CD's of Dr. John Beaulieu for Ellipsis Arts

"Falling Awake" Solo Piano CD

Filadora Act One of a 3 Act Opera written By Gioia Timpanelli and performed in 1995

PRIZES & APPOINTMENTS:

Musiclink.com Consultant and New Music Ambassador

Meet The Composer grants for Deep Listening Space performances

NYFA (New York Foundation for the Arts) technology grant panelist

Woodstock Film Festival Event Producer/ composer/ performer

School for Visual Arts Sound and Vision Instructor

Center for Creative Imaging - Panelist, Technology Forum

Founder-Director of CAT (The Center for Arts and Technology)

1st Prize, International Assoc. of Multi Image, for "Rainforest"

Ear Magazine Editorial board, reviews and New Technologies editor

St. Marks on the Bowery- Parish composer and musician.

Meet the Composer commissions: Bill T Jones and Daniel Lewis Dance

Artists to End Hunger- Advisory member

Music Director of Synaesthetics (performing arts space, SoHo, NY)

Julliard , staff musician, drama dept.

American Dance Festival, staff musician

Bates Foundation Scholarship to the Mozarteum Conservatory

1st Prize - Morse Ingles Concerto Competition

School for Visual Arts, New York City. Faculty-film dept.

MIDI- Independent consulting on software and scoring systems

Tanglewood-Jacobs Pillow: composers workshop director

Princeton University, Connecticut College, NYU & Providence


High school for the Performing Arts: courses in music and movement

Rhode Island Arts Council: "Music teaching tools for Teachers"

National Endowment for the Arts: Artists in Schools Program




---
sound. movement. image.
I don't know precisely when it started; my mother loved to tell the story of me as a five year old dragging her over to a beehive to listen to the bee music. I do remember when my chameleon died when I was 8, I was so overcome with grief that I wrote down funeral marches in my notebook. The relationship between movement and sound has always called to me and my earliest professional compositions were for dance. It was the relationship between movement and music in Balinese dance and South Indian dance that woke me up to the magic and mystery of the interaction. 10 years later after watching a 3d fft (fast fourier transform) visual representation of sound in realtime I realized that for the first time digital technology has given us a language with which to begin to understand the extraordinary relationship between aural and visual content.
I have worked extensively in film, television, theater, dance and music education. I come from a diverse musical background that fuses my classical piano training with my experiences in free jazz and Balinese gamelan. My music merges emotion and intuition. This can be heard in his many different productions, which include Indie films, multimedia installations around the world and scores for network and cable television.


---
Writing about music


While performing and composing music for post modern choreographers in New York in the late 70's I began writing about music and technology and working as editor for Ear Magazine.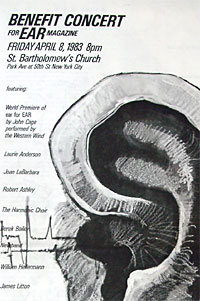 Ear Magazine Volume 8, Number 1-2

10th Anniversary Special Issue" February - May 1983 [Paperback]

EAR celebrated its 10th anniversary with this issue of scores, the selection displaying a vast range of sonic as well as graphic aesthetics. CONTENTS: scores and score excerpts (most with commentary) by the following composers: John Cage, John Duffy, R.I.P. Hayman, Mary Jane Leach, Malcolm Goldstein, Beth Anderson, Laurie Spiegel, Ilhan Mimaaroglu, Yasunao Tone, Eleanor Hovda, Robert Moran, Laurie Anderson, David Garland, Peter Garland, Henry Brant, Jon Gibson, Doris Hays, Max Neuhaus, Richard Teitelbaum, Pauline Oliveros, Dick Higgins, Charlemagne Palestine, Yoshi Wada, Petr Kotik, Charlie Morrow, Joan La Barbara, Annea Lockwood, Alison Knowles, Nam June Paik, Carman Moore, Peter Wetzler, John Beaulieu, Jean Paul Curtay, John Zorn, Tom Johnson, Dean Drummond, Judith Martin, Meredith Monk, Richard Cameron-Wolfe, Jackson Mac Low, and many others (omitted names gladly supplied on request); 52 pages, profusely illustrated.


---
Harmony and food: the taste.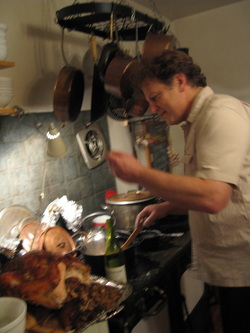 My life's purpose, simply put, is the pursuit of harmony. There is something so compelling to me about the force of harmonic motion, like gravity, weather or even sex exploring the mystery will never cease to consume me.

" Music, taste, smell and vision are inexorably connected. Composing a meal and composing a piece of music engage the brain in very similar ways. "
---